Elridge
Elridge is a Edge Follower. He is controlling, orderly, sociopathic, and yet somewhat elegant. As he becomes stronger, his attention to detail becomes far sharper.
One may engage in a romantic relationship with Elridge if he is spoken to and Oriflamme's Auction House is chosen as the subject of discussion. Temptation: Power or any of its forms (ex., Desire: Power) is also required to do so.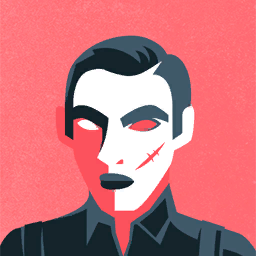 Elridge, an acquaintance
An elegant man of inelegant habits. [You might be able to recruit this acquaintance as a follower.]
- Acquaintance description
Aspects: Acquaintance, Mortal
.
Elridge, a believer
Elridge has almost learnt not to pick his teeth with his knife in conversation. He has not yet learnt to leave his knife in his boot.
- Believer description
Aspects: Mortal, Follower, Edge 2
.
Elridge, a disciple
Elridge is waiting patiently until it's time to knife someone again.
- Disciple description
Aspects: Mortal, Potential, Edge 5, Follower, Disciple
.
Elridge, an Assassin
Elridge is never seen with a spot of blood upon his person. Not a spot.
- Exalt description
Aspects: Mortal, Edge 10, Exalted, Follower, Disciple
.
Rival
Elridge's shoes are often spotted with blood.
- Rival description
Aspects: A Rival's Ascension 2, Mortal, Maverick, Suspicious
.
Prisoner
Elridge is not permitted a spoon, or a plate. It is probably unwise to permit him even the sharper vegetables.
- Prisoner description
Aspects: Mortal, Heart 3, Lantern 3, Prisoner, Grail 3, Edge 5
.
Romance:
Elridge can be romanced at Oriflamme's Auction House.
Some prefer moonlit walks. Some prefer soft music. But there are those whose enjoy shining opulence, high company, and the soft click of the operations of power.
- Invitation description
Elridge folds his knife shut with a click, and focuses his whole attention on me. 'Yes, please,' he says.
- Followup description
Elridge listens intently to every word. His eyes never leave mine. The only thing he says is 'Yes', but by the time we reach my home, he has begun to say it even when I haven't asked a question.
- Success description
Elridge acts unhesitatingly with elegance and economy, precisely anticipating my preferences.
- Season description
.
Ever After
Our home is ordered, polished, controlled. He knows always where the tools are that we need. He knows afterwards to clean, to put them back once more. Sometimes I must wait, while he does the things he must do. But when he is finished, he may look up at me, and I may give him his reward. [This might be considered a victory. But the House is no place for lovers.]
- End description