Slee
Slee is a Lantern Follower. He is scholarly and loves poetry, and is crippled by chronic headaches.
One may engage in a romantic relationship with Slee if she is spoken to and Streets Strange by Moonlight is chosen as the subject of discussion. Temptation: Enlightenment or any of its forms (ex., Desire: Enlightenment) is also required to do so..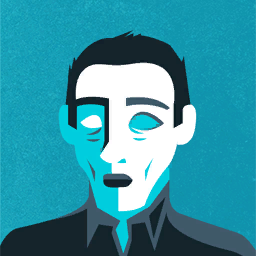 Slee, an acquaintance
Craig Slee, the astronomer and avant-garde poet, has developed an interest in the esoteric as his health wanes. [You might be able to recruit this acquaintance as a follower.]
- Acquaintance description
Aspects: Acquaintance, Mortal
.
Slee, a believer
Slee speaks earnestly of his theories to all who will listen: the stars as tiny wounds, and the Sun as a haemorrhage of glory. His poetry is more eccentric than ever.
- Believer description
Aspects: Mortal, Follower, Lantern 2
.
Slee, a disciple
Slee's headaches have become crippling, but his theories grow more practical by the day. His poetry's getting better, too.
- Disciple description
Aspects: Mortal, Potential, Lantern 5, Follower, Disciple
.
Slee, a Seer
Slee speaks exclusively in mathematics and in poetry. Both are compelling: it is increasingly difficult to tell the difference.
- Exalt description
Aspects: Mortal, Lantern 10, Exalted, Follower, Disciple
.
Rival
Slee is always hungry for resources to pursue his theories.
- Rival description
Aspects: A Rival's Ascension 2, Mortal, Maverick, Suspicious
.
Prisoner
Slee writes poetry on the walls, obsessively. If we don't provide ink, he uses what he can.
- Prisoner description
Aspects: Mortal, Heart 3, Lantern 5, Prisoner, Grail 3,
.
Romance:
Slee can be romanced at Streets Strange by Moonlight.
The light is silver; the breeze is cool; the night's silence invites words as dark velvet invites a finger's touch.
- Invitation description
For a moment Slee looks as alarmed as if I'd suggested a surgical intervention. Then he nods, earnestly. 'I wonder what will happen,' he says.
- Followup description
Slee, it transpires, has prepared a poem dedicated to me. It's very flattering. But it does go on. Kissing him is an effective way to curtail it. @
- Success description
Invariably Slee comes armed with poetry. Sometimes I'm in the mood for poetry. Sometimes I'm in the mood for something else.
- Season description
.
Ever After
Our home is littered with his notes. They touch upon the grandnesses of love, of birth, of everything. Among them we laugh at limericks and fall drunkenly to bed. When we wake, we are cocooned, warm in the crooks of each other. Sometimes I nudge a scrap of paper out from the coverlet. Sometimes I let it stay. [This might be considered a victory. But the House is no place for lovers.]
- End description